Day 6 – the last day and cottage review
Posted: February 1, 2015
| Author: errrdaniels
|
Filed under: Traveling, Yorkshire Dales
| Tags: Blue Buttons, Blue Buttons Yorkshire, Blue Buttons Yorkshire review, cottages in Yorkshire, England, England travel, North Yorkshire, rental cottages in Yorkshire, rental cottages in Yorkshire Dales, Skipton, Travel tips in Yorkshire, Traveling in Yorkshire, What to do in the Yorkshire Dales, Yorkshire, Yorkshire cottage review, Yorkshire Dales, Yorkshire Holiday, Yorkshire travel, Yorkshire travel blog
|
Leave a comment
I'm a little late getting this post up, but I'm still feeling urgh, our last day in Yorkshire..
We both didn't want to leave Yorkshire and really, really didn't want to leave the cottage. So on our last day we were in agreement to take it easy and just relax (be lazy) around the cottage – after all it was one of favourite parts of the trip!
I think we found the cottage, named Blue Buttons, through cottages4you.co.uk and paid roughly £360 for a week (not each, between us.)  When we arrived we knew we had made the right choice, especially as it was much bigger than what we thought it was going to be!
It's a two storey building, which some might think is not technically a cottage, but with its luxury cosy feel, log fire and hot tub jacuzzi bath to boot I don't really care!
The log fire is located in the living room, pictured above and whilst I couldn't manage to get a decent picture of the heavenly bathroom I've nicked one of theirs below (which does do it more justice than my failed attempts.)  The bathroom really impressed David where there is a rainfall shower and as previously mentioned and praised: the jacuzzi bath, which is MASSIVE!  (Room for two, even though David is 6 ft 4!)
On our arrival the kind and delightfully northern couple (I'm from the south if you haven't guessed) had already bought us some logs for the fire, little snacks like crackers and Wensleydale cheese, milk, tea, coffee and a bottle of wine.
They, Sharon and Boyd, live a few doors down and hold a wealth of knowledge of the surrounding area they both grew up in and are very proud of.
Other amenities are free parking (off the street/on the driveway), WARM central heating (if you can't be bothered with the log fire), a fantastic kitchen with an American style fridge with every piece of crockery or cutlery you'll ever need, a downstairs toilet, towels, 3 TV's (with 1 DVD player in the living room and a small collection of films), the board game Scrabble, a washing machine, iron, ironing board, wifi and OH YES A HAIR DRYER!  (Love it when that's included.)
Listing all of the above and I haven't yet mentioned the bedroom!
If the bathroom was the room David was most impressed by then for me it has got to be the bedroom.  As David is the size he is, sometimes traveling we did struggle a bit with various double beds we stayed in!  Thankfully this bed was just so, so comfortable, but also big enough so David could stretch out and not collide with me in the process.  (I lie, it's usually me who stretches out and disturbs him!)
Another part of the cottage I loved is the amount of light the windows brought in.  I hate dark rooms and hotels/hostels we stayed in throughout our gap year which did not have windows was a personal hell.  Waking up in a dark room is just not natural!
Anyway, even through a week in January, each morning when I opened the curtains the room would be flooded with light.
A Tesco and a Morrisons is very close by with those or the town an easy 10 minute walk.  York, Harrogate and Leeds are all very near too, either for driving or catching the train (the station being in town too.)  Leeds is a big transport hub so many links will be made here.
Both David and I really enjoyed our stay and was gutted when we had to leave, it was by far the best accommodation we have ever stayed in.  If you are interested you can click here to look into booking details.
All views are my own and I have not been paid or asked to review this cottage by the owners or the website.  It truly is a fantastic place to stay in the beautiful 'gateway to the Dales'!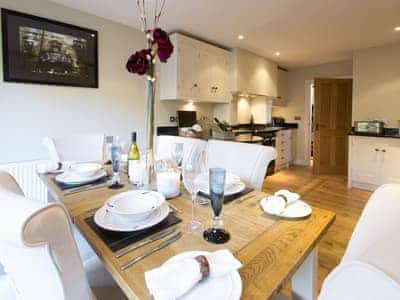 ---